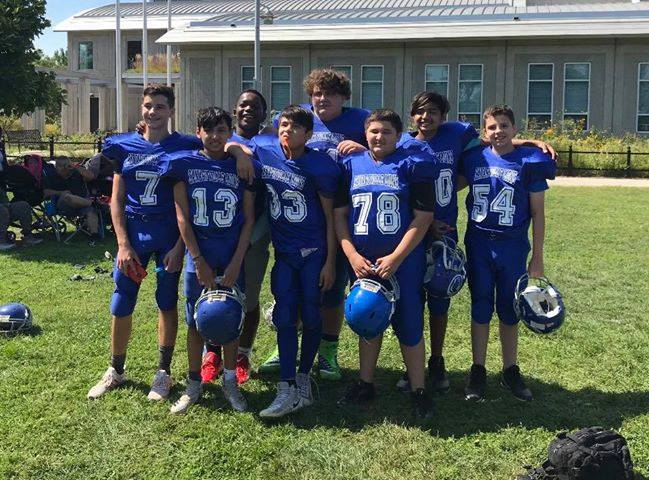 The Canaryville Lions are a founding member of the Chicagoland Youth Football League. We are a full contact team (boys & girls ages 7-14) and play throughout the Chicago area. Last year we joined the Pop Warner league, a national non-profit organization that promotes youth football and cheer & dance programs for participants in several states and countries around the world. We hope this new partnership will help us build our teams and continue to provide a safe sporting environment for the youth in our community.
Contact Coach Adam for more information: (312) 961-1806
IMPORTANT TEAM DATES
September Practice Started August 1, 2022 Monday – Thursday 5:30 PM until 7:30 PM
Season starts August 27, 2022!
Picture Day Monday, Sept 12, 2022. 5:30 P.M. Until 7:30 P.M.
Homecoming Game Sunday Sept 25
Home Coming Dance Friday Sept 23, 7:00 P.M. until 10 P.M. @ Union Ave Methodist Church, 4350 S Union Players $5, plus one date $5
SIGN UP FOR TEXT ALERTS!
Weather & Field Conditions may dictate practice and game cancellations. To receive text message alerts on your cell phone, text "follow canaryvillelion" to 40404.
Simply type 40404 in the "TO" field and type "follow canaryvillelion" in the message box.
Like Us on Facebook to see updates
Parents can keep up to date via our facebook page for last minute updates concerning extreme weather and field conditions.
McInerney Playlot (Practice Field)
Taylor Lauridsen (Home Field)
647 West Root Street Chicago, IL 60609-2632

View Larger Map
HELP!
We are recruiting assistant coaches for upcoming 2022 season. Click here for our VolunteerMatch Listing
Frequently Asked Questions
When is registration?
Online registration is currently OPEN and continues until weigh-in day. In person registration starts August 1st and continues until first game.
What do I need for registration?
You will need a birth certificate, sports physical and the registration fee. That fee is $200.00.
Can I pay the fee in cash?
We accept cash for in person registration. Payment should be by personal check, money order in person, or Visa, Mastercard, or American Express online. If a personal check is returned for insufficient funds you are responsible for any fees.
When does practice start?
Practice starts on Monday August 1st, 2022.
Where is practice?
The entire team practices at McInerney Playlot, a Chicago Park located at 4446 S Emerald Ave.
When is practice?
Practice is five days a week in August, Monday through Friday, 5:30 P.M. until 7:30 P.M. Once the season starts practice is Tuesday through Thursday, same time.
When does the season start?
The season starts weekend of August 27th-28th 2022.
When does the season end?
The regular season ends 8 weeks after the start of the season. The season may be extended if a Team makes the Playoff Game, and the Championship Game.
When are the games?
Home games and Away games may be on Saturday and/or Sunday.
How many home games?
Normally the team plays four home games.
Where will the home games be played?
Taylor-Lauridsen Park located at 742 W 42nd St.
What time are the games?
Times to be determined by League
What does my child wear to practice?
Until football equipment is issued, your child can wear a tee shirt and gym shorts. No hats! No jewelry! The player will need an athletic supporter and cup along with cleats (no metal).
When is football equipment issued?
We will issue equipment if the child's fee has all forms, registration fee has been paid in full, and physical is completed. Equipment will be handed out August 30th & 31st at the Union Ave Methodist Church – 4350 S Union Ave, Chicago. Signups after these dates are suited up Friday 5:30pm to 7:30pm by appointment only.
Can I provide my own equipment?
Yes, with your coaches inspection and approval. No jerseys with personalized names!
What if my child loses or damages the football equipment?
You are responsible to replace the equipment with new equipment or pay for new equipment before your child plays in their next game.
When do I return the football equipment?
Immediately after your child's last game, whenever that happens.
Can I watch my child practice?
Absolutely! We encourage parents to attend practice every day and become part of the Lion's family!
What about games?
Even more absolutely, and bring your friends, cousins, grandmothers/fathers, anyone who wants to watch kids have fun playing football.